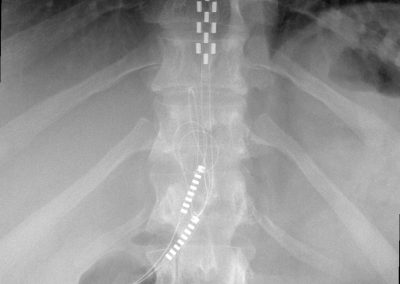 Procedures
Spinal Cord Stimulator (SCS)
A small surgically implanted device which transmits electrical pulses which disrupt the transmission of pain signals reducing or eliminating neck, back and leg pain.
Schedule an Appointment
Spinal Cord Stimulator Facts and Information
Spinal Cord Stimulation (SCS) is a promising interventional pain management technique used in the treatment of chronic pain. The SCS emits a mild current that confuses transmission and perception of pain by the brain. It is believed that electrical pulses prevent pain signals from being received by the brain. The goal of SCS is to help the patient regain a quality of life that was taken from them by chronic pain. Spinal cord stimulation may be considered when other nonoperative or surgical treatments fail to alleviate pain. It is often used to manage low back pain, neuropathic pain, persistent extremity pain, complex regional pain syndrome, chronic abdominal or pelvic pain and certain types of headaches.
---
About the Procedure
Trial Implantation
The injection site is anesthetized. One or more insulated wire leads are inserted through an epidural needle or through a small incision into the space surrounding the spinal cord, called the epidural space.
Find the Right Location
Electrodes at the end of the lead produce electrical pulses that stimulate the nerves, blocking pain signals. The patient gives feedback to help the physician determine where to place the stimulators to best block the patient's pain. The leads are connected to an external trial stimulator, which will be used for approximately one week to determine if SCS will help the patient.
Determine Effectiveness
If the patient and the physician determine that the amount of pain relief is acceptable, the system may be permanently implanted. At the end of the trial implantation, the leads are removed.
Permanent Implantation
The permanent implantation may be performed while the patient is under sedation or general anesthesia. First, one or more permanent leads are inserted through an epidural needle or a small incision into the predetermined location in the epidural space.
Next, a small incision is created to implant the pulse generator (IPG) battery. The leads are then connected to the IPG battery.
End of Procedure
The implant's electrical pulses are programmed with an external wireless programmer. The patient can use the programmer to turn the system on or off, adjust the stimulation power level and switch between different programs.
---
After the Procedure
You will have a small incision that you should keep clean and dry until it heals. If the procedure is successful, you may feel that your pain may be gone or reduced. You will experience a fairly constant sensation of stimulation. You may have soreness due to the needles used for a day or two.
Am I a candidate for Spinal Cord Stimulator?
SeaCoast Spine & Sports Medicine offers in-office Spinal Cord Stimulator trials to patients with chronic and severe pain, who have not responded to other treatment modalities. Most of these patients are suffering from back and leg pain after back surgery, chronic radiculopathy, neuropathic pain, reflex sympathetic dystrophy or complex regional pain syndrome. To find out if you may benefit from this procedure, please give us a call.
Will the Spinal Cord Stimulator help me?
It is very difficult to predict if the procedure will indeed help you or not. For that reason temporary wires are placed to determine if this device will be effective to relieve your pain or not. Typically, patients will have a 50 to 70% reduction in their pain.
What are the alternatives?
Conservative treatment (e.g. physical therapy, exercise regimens and nonsteroidal anti-inflammatory medications) is often prescribed first. Surgery may be a possible alternative, however these procedures may only provide temporary pain relief. This procedure can help determine if surgery would be beneficial by more precisely localizing the source of your symptoms. In most cases, many of these options will be exhausted prior to considering Spinal Cord Stimulation.
---
Possible Conditions
---
Disclaimer: the content of the Website is for general informational purposes only and does not constitute advice of any kind. See the full User Agreement here.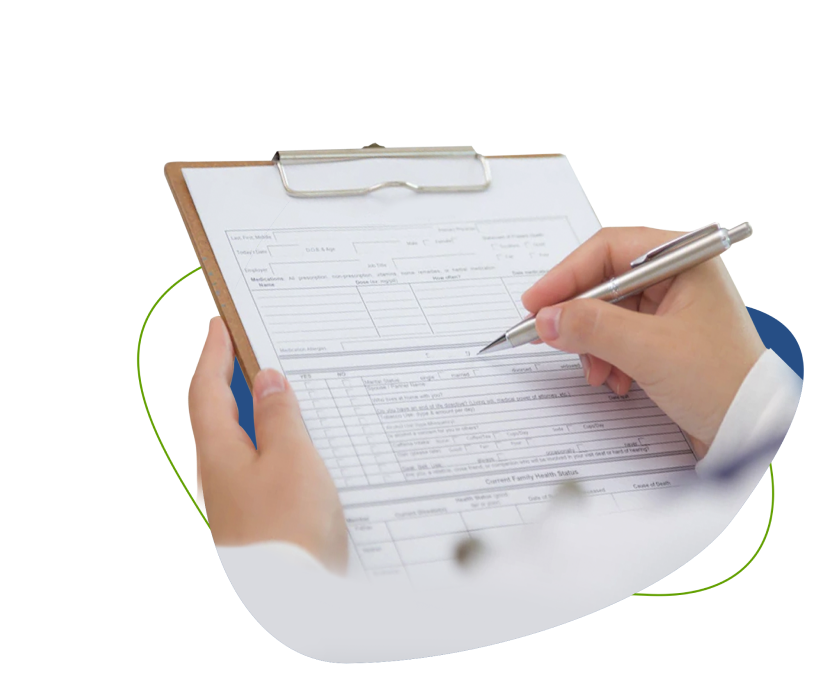 Free
Take Back Your Life
Fill out the form or simply give us a call to book your appointment and start feeling better.